C-Leg 4
Choose the latest in proven performance.
With over 100,000 fittings worldwide, the C-Leg is trusted by more users than any other microprocessor knee in the world. It's no wonder: Studies show the C-Leg provides the exceptional reliability and performance a user needs to focus on what really matters — enjoying a healthy, active lifestyle.
With over 100,000 fittings worldwide, the C-Leg is trusted by more users than any other microprocessor knee in the world. It's no wonder: Studies show the C-Leg provides the exceptional reliability and performance a user needs to focus on what really matters — enjoying a healthy, active lifestyle.
From descending stairs and ramps, to navigating uneven terrain, to walking backward, the C-Leg dynamically adapts to a wide variety of everyday situations.
This legacy lives on in the C-Leg 4 update. With an innovative design and exciting new features, the C-Leg 4 provides the known reliability, next-level personalisation, and an easier, more intuitive user experience for both patients and professionals alike.
Proven performance at every step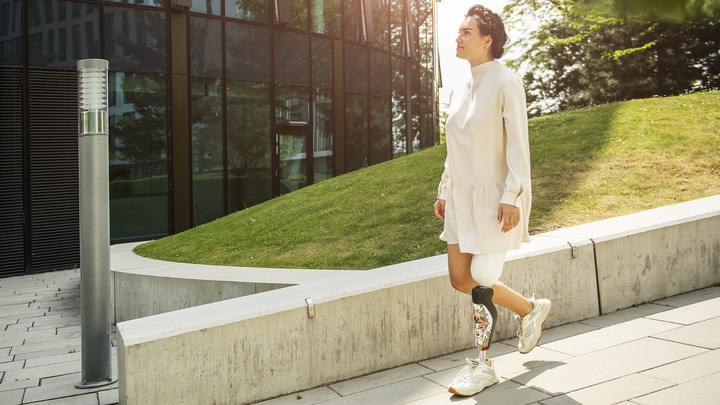 The key to fluid movement is a knee that responds quickly to different inclines and surfaces. With the new C-Leg 4, users get improved stance release and increased support for descending ramps and stairs, enabling noticeably smoother and more reliable movement.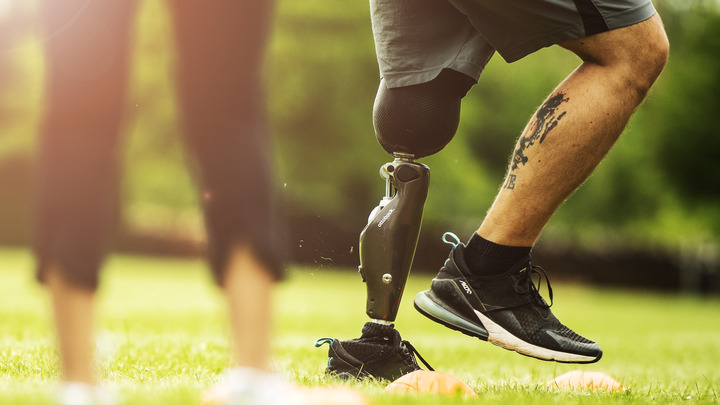 Stumble Recovery Plus is active at all times with the C-Leg 4 update. This ultra-precise feature automatically detects fall-like movements during the swing phase of users' gait and activates the resistance they need to avoid a fall, recover their balance, and maintain greater stability.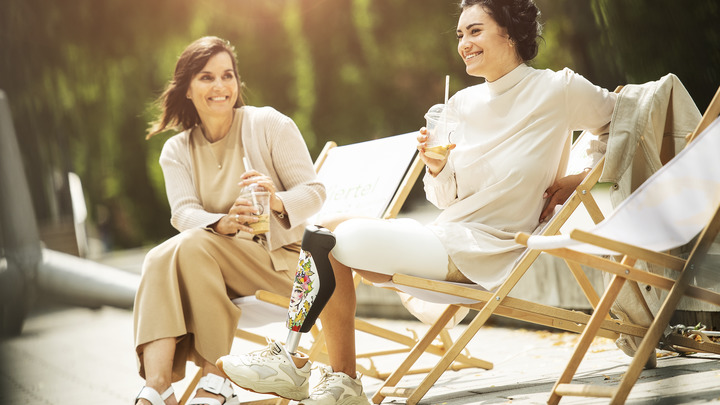 Support And Comfort For Sitting.
The C-Leg 4 detects when users sit down, mirroring their speed to keep them stable and in control — even if they're using a chair or a walking aid for support. Once seated, they can enjoy a relaxed, comfortable position with a free-swinging joint thanks to the supported sitting function.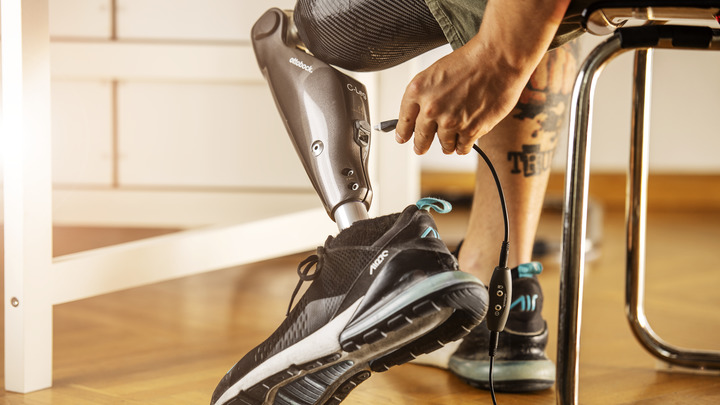 Now it's easier than ever for users to get the most out of their C-Leg. Deep sleep mode saves battery during long flights, camping, or other activities where power supply is limited. A redesigned charger enables one-handed use. Plus, there's a USB charging adapter available.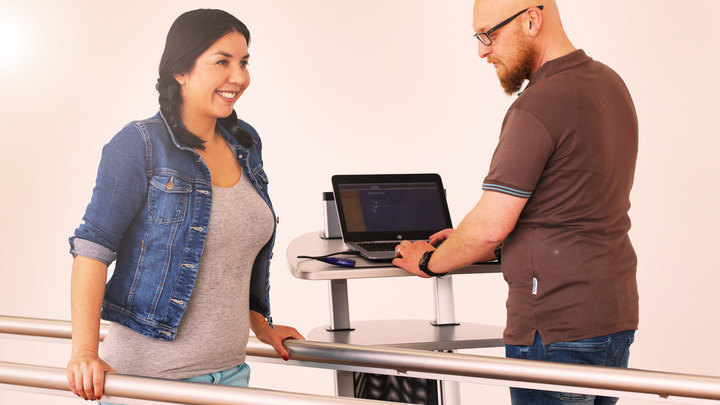 Helpful Training Function.
A new training function provides a feedback signal after every successful swing phase initiation to support troubleshooting and gait training as users get accustomed to their prosthesis. This feature can be activated and deactivated by the prosthetist or user via the Cockpit app.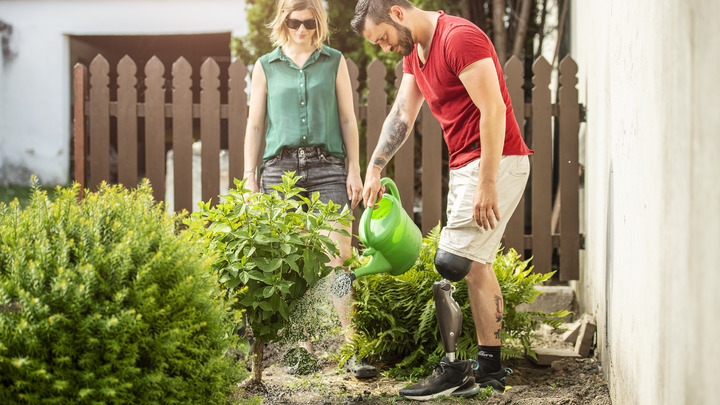 Weatherproof Design (IP67).
With the C-Leg 4, users don't have to worry about occasional water splashes. Whether they're walking past a sprinkler, working in the garden, or caught in a sudden rain shower, the C-Leg is designed to stay protected as long as the joint and components are dried off afterward. The C-Leg is NOT WATERPROOF.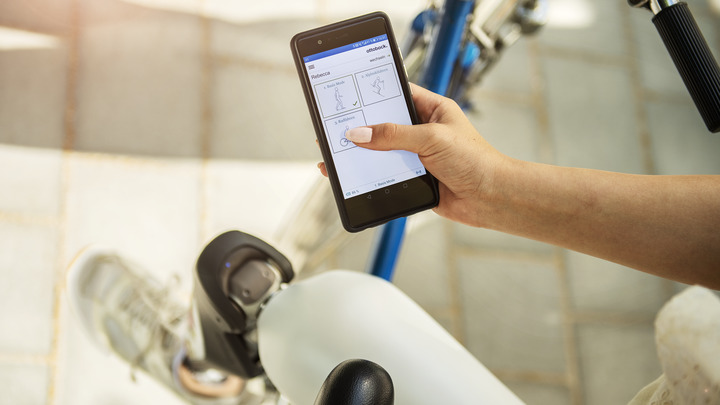 Now, users can easily get more support for their favourite activities. MyMode Plus offers a fantastic selection of options for work, leisure, and athletics. Together with their prosthetist, users can select two settings for easy activation in the Cockpit app or via a movement pattern.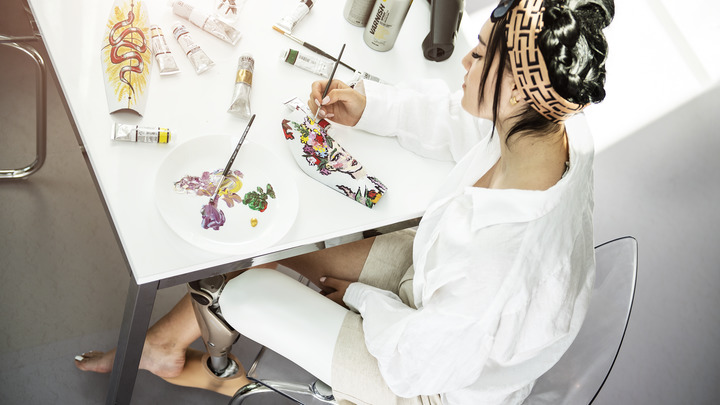 Customisable Shield Insert.
Users can personalise the look of their prosthesis thanks to a new customisable shield insert. Not only do these robust, durable covers protect the C-Leg 4 from environmental factors or wear and tear, they also now empower users to show off their unique style with each step.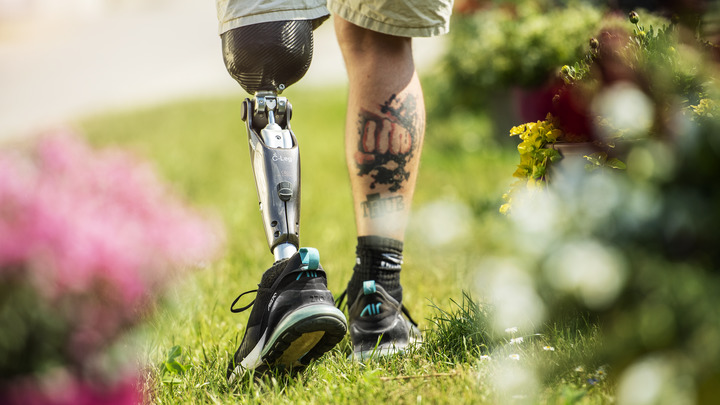 Many of the updates to our signature C-Leg microprocessor knee are based on feedback we received from users and professionals. In fact, that's why the C-Leg 4 is now available in two colors: the original lighter Desert Pearl as well as a new darker shade, Midnight Shadow.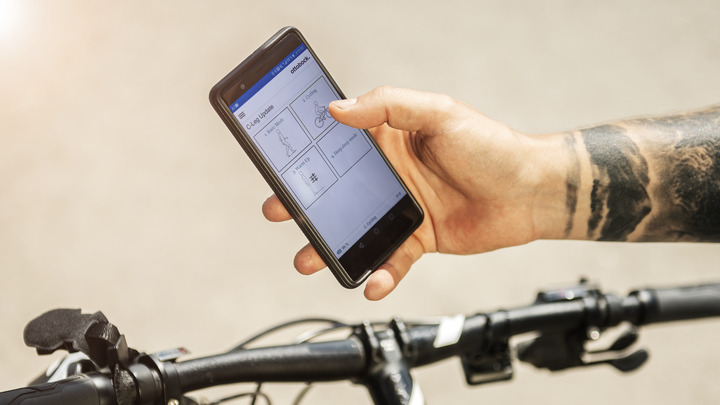 With the Cockpit app, users can fine tune MyMode Plus and other settings individually, switch between MyMode Plus options, check their knee's battery life, set their volume, track their activities, perform a knee joint self-test if needed, and much more — all via their iOS or Android smartphone.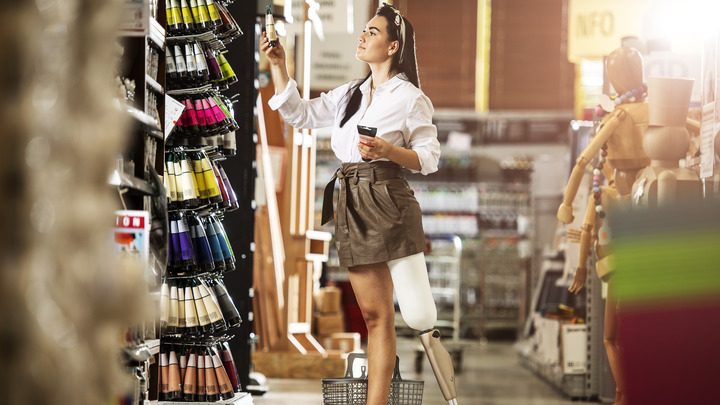 Stance Function Selection.
With their prosthetist's help, users can choose between intuitive and deliberate stance functions. Intuitive stance uses subtle cues to detect whether users need support for standing or taking a step, while deliberate stance requires more conscious movements to resume flexion.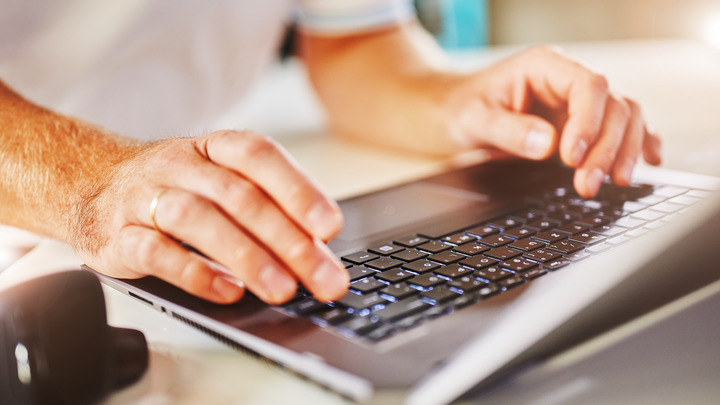 More Support For Prosthetists.
Featuring C-Soft Plus 1.10 software, the new C-Leg 4 offers even more preset options and video tutorials to assist professionals and users throughout the fitting process.
C-Leg users enjoy healthy, active lives
Georg's C-Leg 4 Story
Georg maintains an unwavering positive attitude toward life. In fact, he believes his amputation has created new possibilities for him, such as realising his childhood dream of skiing, discovering a passion for the javelin, and becoming a para-athlete. Watch the video to see how the C-Leg 4 supports him during sports, daily routines, and everything in between.
Rebecca's C-Leg 4 Story
Rebecca loves to express creativity in every facet of her life. Thanks to the new custom shield insert for her C-Leg 4, her unique style and personality are always on display for the world to see. Watch the video to see how the C-Leg 4 keeps Rebecca focused on what really matters — not every step she takes, but rather where each step will take her.
Celebrating 25 Years of C-Leg
C-Leg the signature microprocessor controlled knee joint started a revolution in prosthetics. A quarter century and over 100,000 fittings later, it's still the most popular prosthesis of its kind. See how the C-Leg keeps users moving forward with decades of innovation in every step.
See why more users trust C-Leg
Intelligent system
Ottobock is continually developing the C-Leg to ensure users get the latest and greatest in microprocessor knee technology. The C-Leg supports users throughout the entire gait cycle, adjusting to their unique walking patterns in real time. So, whether they're going downstairs step-over-step, descending slopes, or navigating uneven terrain, C-Leg users can truly trust their prosthesis as they move through their daily activities.
Reliability
Twenty-five years of continuous development based on real practitioner and user experiences have made C-Leg the most preferred and trusted microprocessor-controlled knee joint in the world. It's also the most widely studied and proven. In fact, 77 scientific publications featuring upwards of 2,500 subjects clearly support the benefits that C-Leg users across the globe enjoy every day.
Elegance
Thanks to innovative new developments, C-Leg 4 users enjoy more harmonious, fluid movement patterns — even when taking small steps, changing walking speeds, or navigating different types of terrain such as sand, grass, and gravel. Even users who have never worn a C-Leg are able to adjust to the prosthesis over a relatively short period of time.
Safety
Many studies have proven that users fall significantly less frequently with the C-Leg than with conventional prostheses, making the C-Leg one of the most reliable leg prostheses in the world. In addition, the new C-Leg 4 provides even greater safety and stability via Stumble Recovery Plus and increased support for sitting down.
| | |
| --- | --- |
| Product type | Microprocessor |
| Mobility grade | 2, 3, 4 |
| Max. body weight | 136 kg |
| Amputation level | Hip disarticulation, Transfemoral amputation, Knee disarticulation |
| Material | Carbon |
| | | | | |
| --- | --- | --- | --- | --- |
| Article number | 3C88-3=8.5-2 | 3C98-3=8.5-2 | 3C88-3=9.2-2 | 3C98-3=9.2-2 |
| Mobility grade | 2, 3, 4 | 2, 3, 4 | 2, 3, 4 | 2, 3, 4 |
| Distal connection | Tube clamp | Tube clamp | Tube clamp | Tube clamp |
| Proximal connection | Threaded connector | Pyramid | Threaded connector | Pyramid |
| Knee flexion angle | 130 ° | 130 ° | 130 ° | 130 ° |
| Moisture protection | IP67 (weatherproof) | IP67 (weatherproof) | IP67 (weatherproof) | IP67 (weatherproof) |
| Weight (without tube adapter) | 1255 g | 1,250 g | 1255 g | 1,250 g |
| Max. body weight | 136 kg | 136 kg | 136 kg | 136 kg |
| Colour | Midnight Shadow | Midnight Shadow | Desert pearl | Desert pearl |
| Proximal system height to alignment reference point | 26 mm | 5 mm | 26 mm | 5 mm |
| Minimum distal system height with 257/2R67 tube adapter | 289 / 329 mm | 289 / 329 mm | 289 / 329 mm | 289 / 329 mm |
| Max. distal system height with 257/2R67 tube adapter | 494 / 534 mm | 494 / 534 mm | 494 / 534 mm | 494 / 534 mm |
| Min. build height with 2R57/2R67 tube adapter | 297 + 9* / 337 + 9* mm | 294 / 334 mm | 297 + 9* / 337 + 9* mm | 294 / 334 mm |
| Max. build height with 2R57/2R67 tube adapter | 502 + 9* / 542 + 9* mm | 499 / 539 mm | 502 + 9* / 542 + 9* mm | 499 / 539 mm |
| Proximal build height to alignment reference point | 26 + 9* mm | 23 mm | 26 + 9* mm | 23 mm |
| Min. distal build height with 2R57/2R67 tube adapter | 271 / 311 mm | 271 / 311 mm | 271 / 311 mm | 271 / 311 mm |
| Max. distal build height with 2R57/2R67 tube adapter | 476 / 516 mm | 476 / 516 mm | 476 / 516 mm | 476 / 516 mm |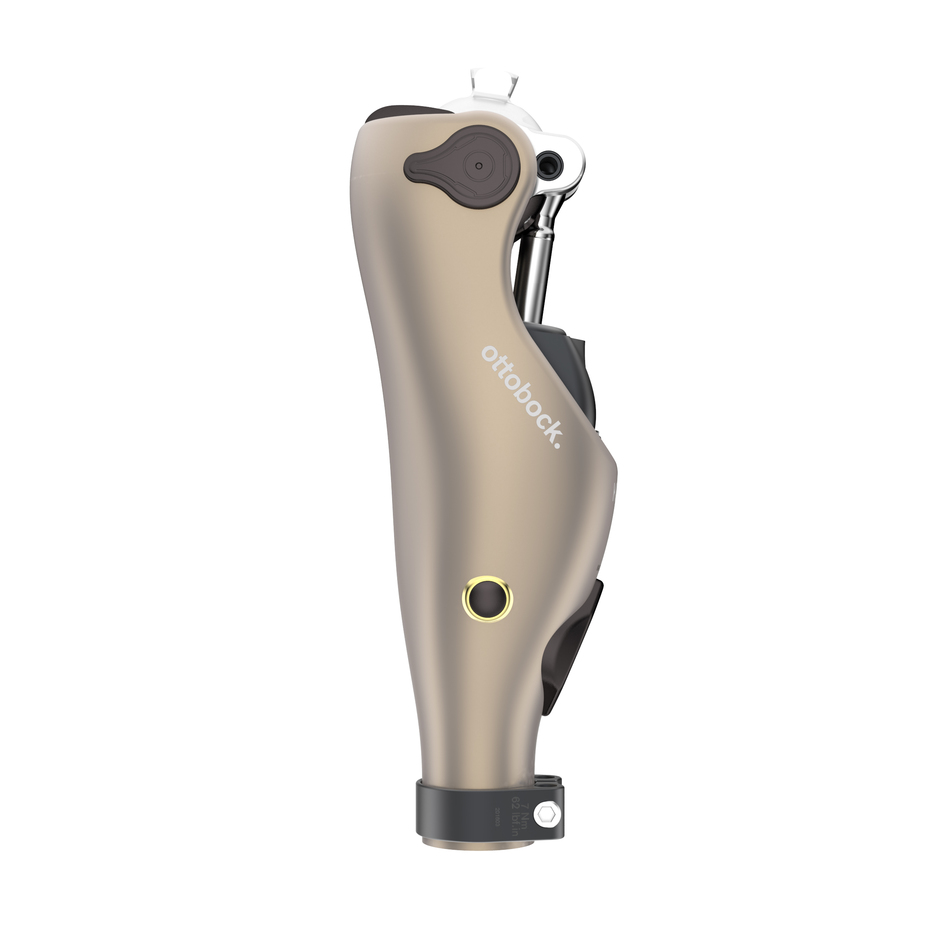 Walking with a prosthesis for the first time means building up confidence step by step. This also applies if you use other devices or generally do not move about much. You become more flexible and independent only when your confidence in the prosthesis grows.The Kenevo puts a focus on safety. It provides support in typical everyday situations with its basic functions. Moreover, the activity modes make it highly adaptable. The Kenevo keeps pace with your growing skills, for instance during rehabilitation, and adapts itself to decreasing mobility equally well.The new Kenevo features new functions that make day-to-day life easier and richer. They include the intuitive assisted descent of ramps and the use of an indoor bicycle (static bike). The prosthesis is easier to put on and it can be charged without removing the foam cover. The knee joint can be configured using a smartphone with the Cockpit app.#EvolveWithKenevo
Walking with a prosthesis for the first time means building up confidence step by step. This also applies if you use other devices or generally do not move about much. You become more flexible and independent only when your confidence in the prosthesis grows.The Kenevo puts a focus on safety. It provides support in typical everyday situations with its basic functions. Moreover, the activity modes make it highly adaptable. The Kenevo keeps pace with your growing skills, for instance during rehabilitation, and adapts itself to decreasing mobility equally well.The new Kenevo features new functions that make day-to-day life easier and richer. They include the intuitive assisted descent of ramps and the use of an indoor bicycle (static bike). The prosthesis is easier to put on and it can be charged without removing the foam cover. The knee joint can be configured using a smartphone with the Cockpit app.#EvolveWithKenevo