Baxx aluminium back support
For comfort, stability and easy handling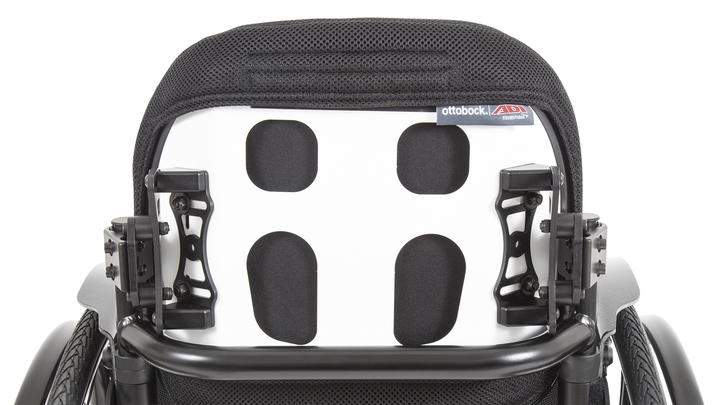 The extra-large cut-outs result in a low weight and easier handling.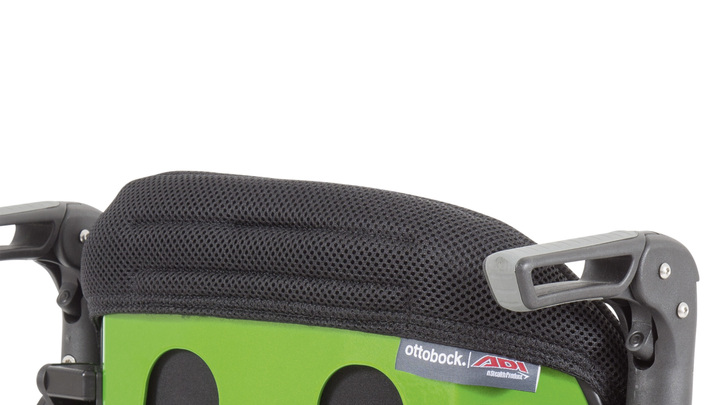 The padded top of the back support makes sitting comfortable in any everyday situation.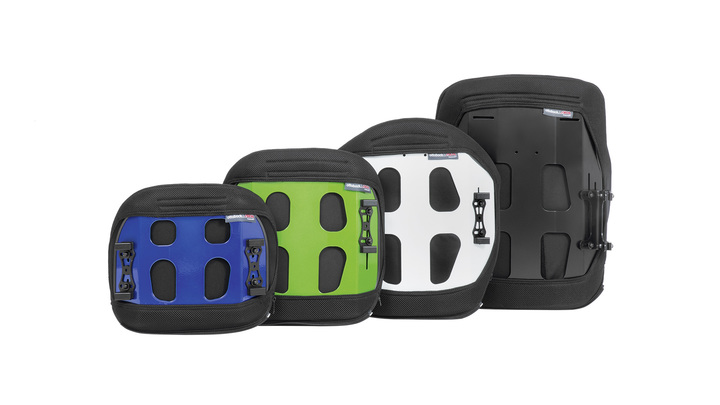 Various heights and contours permit individual adaptation to the user's needs.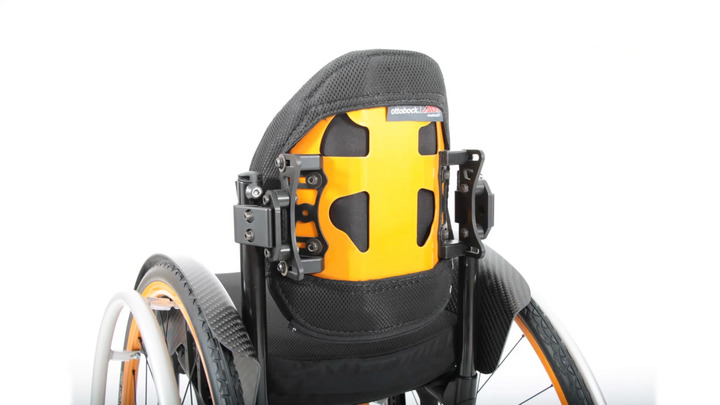 All aluminium back supports are available in various frame colours. This allows each user to further customise their wheelchair.
| | |
| --- | --- |
| Colour | White, Yellow, Red, Black, Orange, Blue, Green, Grey |
| Article number | Back width | Back height | Contour depth | Contours | Baxx type |
| --- | --- | --- | --- | --- | --- |
| 476D00=250x64x250 | 250 mm | 250 mm | 64 mm | active | Low |
| 476D00=250x100x250 | 250 mm | 250 mm | 100 mm | deep | Low |
| 476D00=280x64x250 | 280 mm | 250 mm | 64 mm | active | Low |
| 476D00=280x100x250 | 280 mm | 250 mm | 100 mm | deep | Low |
| 476D00=310x64x250 | 310 mm | 250 mm | 64 mm | active | Low |
| 476D00=310x100x250 | 310 mm | 250 mm | 100 mm | deep | Low |
| 476D00=310x64x330 | 310 mm | 330 mm | 64 mm | active | Medium |
| 476D00=310x100x330 | 310 mm | 330 mm | 100 mm | deep | Medium |
| 476D00=330x64x250 | 330 mm | 250 mm | 64 mm | active | Low |
| 476D00=330x100x250 | 330 mm | 250 mm | 100 mm | deep | Low |
| 476D00=330x64x330 | 330 mm | 330 mm | 64 mm | active | Medium |
| 476D00=330x100x330 | 330 mm | 330 mm | 100 mm | deep | Medium |
| 476D00=360x64x250 | 360 mm | 250 mm | 64 mm | active | Low |
| 476D00=360x100x250 | 360 mm | 250 mm | 100 mm | deep | Low |
| 476D00=360x64x330 | 360 mm | 330 mm | 64 mm | active | Medium |
| 476D00=360x100x330 | 360 mm | 330 mm | 100 mm | deep | Medium |
| 476D00=360x64x410 | 360 mm | 410 mm | 64 mm | active | Standard |
| 476D00=360x100x410 | 360 mm | 410 mm | 100 mm | deep | Standard |
| 476D00=380x64x250 | 380 mm | 250 mm | 64 mm | active | Low |
| 476D00=380x100x250 | 380 mm | 250 mm | 100 mm | deep | Low |
| 476D00=380x64x330 | 380 mm | 330 mm | 64 mm | active | Medium |
| 476D00=380x100x330 | 380 mm | 330 mm | 100 mm | deep | Medium |
| 476D00=380x64x410 | 380 mm | 410 mm | 64 mm | active | Standard |
| 476D00=380x100x410 | 380 mm | 410 mm | 100 mm | deep | Standard |
| 476D00=410x64x250 | 410 mm | 250 mm | 64 mm | active | Low |
| 476D00=410x100x250 | 410 mm | 250 mm | 100 mm | deep | Low |
| 476D00=410x64x330 | 410 mm | 330 mm | 64 mm | active | Medium |
| 476D00=410x100x330 | 410 mm | 330 mm | 100 mm | deep | Medium |
| 476D00=410x64x410 | 410 mm | 410 mm | 64 mm | active | Standard |
| 476D00=410x100x410 | 410 mm | 410 mm | 100 mm | deep | Standard |
| 476D00=410x150x410 | 410 mm | 410 mm | 150 mm | extra deep | Standard |
| 476D00=410x64x460 | 410 mm | 460 mm | 64 mm | active | High |
| 476D00=410x100x460 | 410 mm | 460 mm | 100 mm | deep | High |
| 476D00=410x150x460 | 410 mm | 460 mm | 150 mm | extra deep | High |
| 476D00=410x64x510 | 410 mm | 510 mm | 64 mm | active | Extra high |
| 476D00=410x100x510 | 410 mm | 510 mm | 100 mm | deep | Extra high |
| 476D00=410x150x510 | 410 mm | 510 mm | 150 mm | extra deep | Extra high |
| 476D00=430x64x250 | 430 mm | 250 mm | 64 mm | active | Low |
| 476D00=430x100x250 | 430 mm | 250 mm | 100 mm | deep | Low |
| 476D00=430x64x330 | 430 mm | 330 mm | 64 mm | active | Medium |
| 476D00=430x100x330 | 430 mm | 330 mm | 100 mm | deep | Medium |
| 476D00=430x64x410 | 430 mm | 410 mm | 64 mm | active | Standard |
| 476D00=430x100x410 | 430 mm | 410 mm | 100 mm | deep | Standard |
| 476D00=430x150x410 | 430 mm | 410 mm | 150 mm | extra deep | Standard |
| 476D00=430x64x460 | 430 mm | 460 mm | 64 mm | active | High |
| 476D00=430x100x460 | 430 mm | 460 mm | 100 mm | deep | High |
| 476D00=430x150x460 | 430 mm | 460 mm | 150 mm | extra deep | High |
| 476D00=430x64x510 | 430 mm | 510 mm | 64 mm | active | Extra high |
| 476D00=430x100x510 | 430 mm | 510 mm | 100 mm | deep | Extra high |
| 476D00=430x150x510 | 430 mm | 510 mm | 150 mm | extra deep | Extra high |
| 476D00=460x64x250 | 460 mm | 250 mm | 64 mm | active | Low |
| 476D00=460x100x250 | 460 mm | 250 mm | 100 mm | deep | Low |
| 476D00=460x64x330 | 460 mm | 330 mm | 64 mm | active | Medium |
| 476D00=460x100x330 | 460 mm | 330 mm | 150 mm | deep | Medium |
| 476D00=460x64x410 | 460 mm | 410 mm | 64 mm | active | Standard |
| 476D00=460x100x410 | 460 mm | 410 mm | 100 mm | deep | Standard |
| 476D00=460x150x410 | 460 mm | 410 mm | 150 mm | extra deep | Standard |
| 476D00=460x64x460 | 460 mm | 460 mm | 64 mm | active | High |
| 476D00=460x100x460 | 460 mm | 460 mm | 100 mm | deep | High |
| 476D00=460x150x460 | 460 mm | 460 mm | 150 mm | extra deep | High |
| 476D00=460x64x510 | 460 mm | 510 mm | 64 mm | active | Extra high |
| 476D00=460x100x510 | 460 mm | 510 mm | 100 mm | deep | Extra high |
| 476D00=460x150x510 | 460 mm | 510 mm | 150 mm | extra deep | Extra high |
| 476D00=480x64x250 | 480 mm | 250 mm | 64 mm | active | Low |
| 476D00=480x100x250 | 480 mm | 250 mm | 100 mm | deep | Low |
| 476D00=480x64x330 | 480 mm | 330 mm | 64 mm | active | Medium |
| 476D00=480x100x330 | 480 mm | 330 mm | 100 mm | deep | Medium |
| 476D00=480x64x410 | 480 mm | 410 mm | 64 mm | active | Standard |
| 476D00=480x100x410 | 480 mm | 410 mm | 100 mm | deep | Standard |
| 476D00=480x150x410 | 480 mm | 410 mm | 150 mm | extra deep | Standard |
| 476D00=480x64x460 | 480 mm | 460 mm | 64 mm | active | High |
| 476D00=480x100x460 | 480 mm | 460 mm | 100 mm | deep | High |
| 476D00=480x150x460 | 480 mm | 460 mm | 150 mm | extra deep | High |
| 476D00=480x64x510 | 480 mm | 510 mm | 64 mm | active | Extra high |
| 476D00=480x100x510 | 480 mm | 510 mm | 100 mm | deep | Extra high |
| 476D00=480x150x510 | 480 mm | 510 mm | 150 mm | extra deep | Extra high |
| 476D00=510x64x250 | 510 mm | 250 mm | 64 mm | active | Low |
| 476D00=510x100x250 | 510 mm | 250 mm | 100 mm | deep | Low |
| 476D00=510x64x330 | 510 mm | 330 mm | 64 mm | active | Medium |
| 476D00=510x100x330 | 510 mm | 330 mm | 100 mm | deep | Medium |
| 476D00=510x64x410 | 510 mm | 410 mm | 150 mm | active | Standard |
| 476D00=510x100x410 | 510 mm | 410 mm | 100 mm | deep | Standard |
| 476D00=510x150x410 | 510 mm | 410 mm | 150 mm | extra deep | Standard |
| 476D00=510x64x460 | 510 mm | 460 mm | 64 mm | active | High |
| 476D00=510x100x460 | 510 mm | 460 mm | 100 mm | deep | High |
| 476D00=510x150x460 | 510 mm | 460 mm | 150 mm | extra deep | High |
| 476D00=510x64x510 | 510 mm | 510 mm | 64 mm | active | Extra high |
| 476D00=510x100x510 | 510 mm | 510 mm | 100 mm | deep | Extra high |
| 476D00=510x150x510 | 510 mm | 510 mm | 150 mm | extra deep | Extra high |