8320N
-
Leg & knee orthotics
Patella Pro
Freedom from knee pain – get moving again
Patellofemoral pain syndrome is a common cause of anterior knee pain. Young women are often affected by this clinical picture. The patella shifts outwards due to various reasons, resulting in intense pain for those affected.
Patellofemoral pain syndrome is a common cause of anterior knee pain. Young women are often affected by this clinical picture. The patella shifts outwards due to various reasons, resulting in intense pain for those affected.
This is exactly where the Patella Pro brace comes in, guiding the patella back to the centre during flexion as well as extension of the leg. At the same time, the patella is only ever tracked as much as the respective movement demands.
Many users experience significant pain relief along with an increased enjoyment of movement.
| | |
| --- | --- |
| Terms and conditions | Arthritis, other, Arthrosis |
| User group | adults |
| Applications | Bracing & Support/ (OTS) |
All specifications
Patella Pro – slim and lightweight with a perfect fit
The Patella Pro distinguishes itself with its lightweight and slim design and is unobtrusive when worn under clothing. Elements which adapt to one another ensure a precise fit to the respective leg shape.
Handy quick-release closures and donning and doffing loops make it easier for you to put your brace on and take it off on a daily basis. The breathable materials of the Patella Pro make it pleasant to wear, and they are also designed for a firm fit so that the brace does not slip while you move.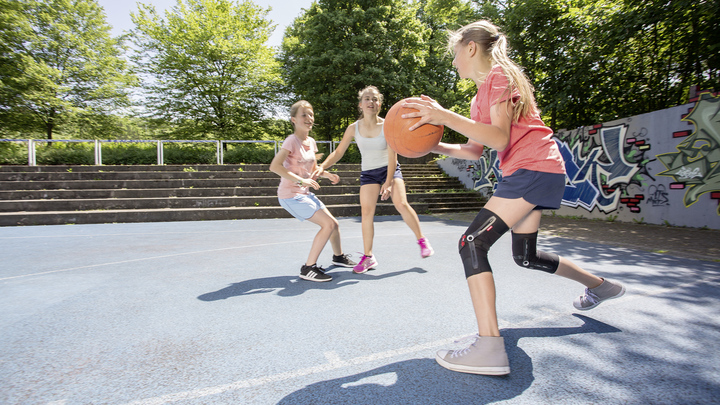 The Patella Pro brace helps to relieve knee pain. This makes everyday activities such as taking the stairs or going on a walk possible again, as well as sporting activities such as school and recreational sports.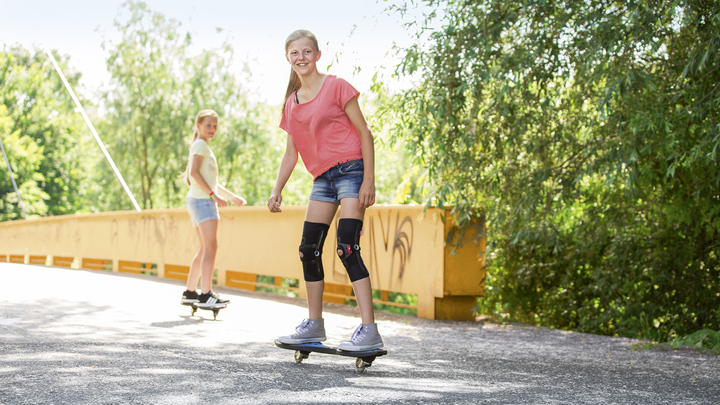 The Patella Pro's unique mode of action provides the patella with targeted tracking in the respective flexion angle, relieving the joint structures.
It is important for your brace to fit properly so that unpleasant or painful pressure points cannot develop. This is why the Patella Pro features practical hook-and-loop and ratchet closures, which your physician or technician can use to adjust the brace to your individual requirements.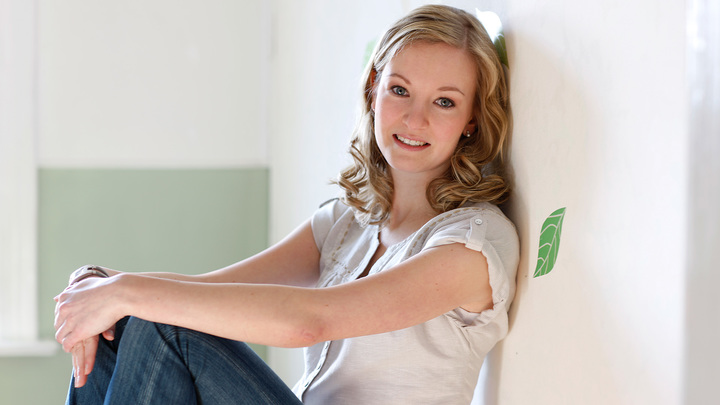 Ottobock has developed a special exercise routine called the Patella Move programme to effectively maintain treatment with the Patella Pro and support your rehabilitation. It can help you strengthen your muscles and relearn proper muscle coordination. The exercises are easy to perform at home. 
Athletic whirlwind back in top form
Due to severe knee pain, Emily had to accept significant limitations to her everyday activities at just 12 years of age. But giving up her sport was simply unimaginable for Emily, a keen handball and basketball player. From walking normally to going up stairs, Emily increasingly complained of pain in both knees. Her parents, too, were becoming concerned about their athletic daughter's future. Would Emily continue to be able to play basketball and ride her beloved skateboard?

The family was advised to try a therapy approach involving treatment with a brace that had already proven effective in numerous cases. The Patella Pro, the result of cooperation between Ottobock and recognised experts, would re-align Emily's patellas – according to the knee flexion – in the anatomically correct position, thereby relieving her from her pain.
No sooner said than done. After about six weeks of wearing the Patella Pro on both knees, Emily is finally actively involved in sports again. Walking, climbing stairs, playing basketball – it's all possible, without any pain. Emily's O&P professional has told her that she won't need to wear the two braces for the rest of her life. "At some point the muscles in my knees will be able to hold my kneecaps in the right position on their own again, and then I won't need any braces at all anymore." One small wish still remains unfulfilled for the 12-year-old: a Patella Pro brace that is suitable for swimming and that she can wear to the pool sometimes.
Judith wears the Patella Pro
Judith was a professional athlete until eight years ago, when she began to experience recurring knee pain – not just in sports but also when performing everyday movements. Her diagnosis was anterior knee pain. Only the Patella Pro allowed her to become active again. In the video, Judith talks about how the brace from Ottobock has improved things for her. The Patella Pro uses a dynamic patella re-alignment mechanism unlike any other in the world.
Support for anterior knee pain
What is anterior knee pain?
Do you have pain at the front of your knee joint? If so, your physician may have already diagnosed you with "patellofemoral pain syndrome", meaning pain in the front of the knee joint.
This is one of the most frequent diagnoses in orthopaedics. When people have knee problems, this is due to anterior knee pain in one out of four cases. Incidentally, women are affected more often than men.
How does anterior knee pain actually occur?
This condition can have a variety of causes. Excessive strain on the patellofemoral joint is often thought to trigger anterior knee pain.
Normally the kneecap (patella) is guided on the femur, as in a track. In the case of anterior knee pain, the patella is often displaced. It slips outwards and causes pain.
The patella can become displaced especially during knee flexion from 10° to 30° because tracking is comparatively weak in this range. With greater flexion (> 30°), the patella is firmly seated in its "holder". The risk of maltracking is then low.
Proper tracking makes all the difference: Patella Pro
For patients with anterior knee pain, smaller flexion angles are especially critical, as these can relatively quickly result in the patella shifting outwards. This is precisely where the Patella Pro comes in with its unique mode of action. Thanks to its dynamic re-alignment mechanism, it tracks the patella precisely to the middle of the joint, i.e. centres it. This relieves the joint cartilage. We call this process "dynamic" because the patella is only ever tracked as much as the respective movement demands.
At the beginning of flexion, when the patella is not yet sufficiently guided in its "bony track", the brace tracks it specifically, thus supporting the overstrained musculature. If the knee joint is flexed further, the patella glides into the "track" of the thigh bone.
| | |
| --- | --- |
| Product type | Patella orthoses |
| Material | Textile, Plastic |
| User group | adults |
| Article number | Size | Side | Lower leg circumference A | Thigh circumference B |
| --- | --- | --- | --- | --- |
| 8320N=L-XXS | XXS | left (L) | 29 - 32 cm | 36 - 40 cm |
| 8320N=R-XXS | XXS | right (R) | 29 - 32 cm | 36 - 40 cm |
| 8320N=L-XS | XS | left (L) | 32 - 35 cm | 40 - 44 cm |
| 8320N=R-XS | XS | right (R) | 32 - 35 cm | 40 - 44 cm |
| 8320N=L-S | S | left (L) | 35 - 38 cm | 44 - 48 cm |
| 8320N=R-S | S | right (R) | 35 - 38 cm | 44 - 48 cm |
| 8320N=L-M | M | left (L) | 38 - 41 cm | 48 - 52 cm |
| 8320N=R-M | M | right (R) | 38 - 41 cm | 48 - 52 cm |
| 8320N=L-L | L | left (L) | 41 - 44 cm | 52 - 56 cm |
| 8320N=R-L | L | right (R) | 41 - 44 cm | 52 - 56 cm |
| 8320N=L-XL | XL | left (L) | 44 - 48 cm | 56 - 61 cm |
| 8320N=R-XL | XL | right (R) | 44 - 48 cm | 56 - 61 cm |
| 8320N=L-XXL | XXL | left (L) | 48 - 52 cm | 61 - 65 cm |
| 8320N=R-XXL | XXL | right (R) | 48 - 52 cm | 61 - 65 cm |