Kenevo
A new option for enhanced safety and increased confidence
Since its launch in 2015, the Kenevo microprocessor knee fundamentally changed prosthetics for low to moderately active amputees. This prosthetic knee was designed to provide you with a greater sense of security so you can live the life you deserve.
Since its launch in 2015, the Kenevo microprocessor knee fundamentally changed prosthetics for low to moderately active amputees. This prosthetic knee was designed to provide you with a greater sense of security so you can live the life you deserve.
Microprocessor-controlled knees have been shown to reduce the risk of uncontrolled falls by up to 80%1 in moderately active persons, as well as improve the indicators of fall risk, such as fear of falling.2
With key features such as Stumble Recovery Plus, supported stand-to-sit and sit-to-stand, wheelchair mode, and putting on the prosthesis while seated, it is no wonder users feel more confident and independent than ever before.
1. Kannenberg, A., Zacharias, B., & Pröbsting, E. (2014).
2. Mileusnic et al. 2017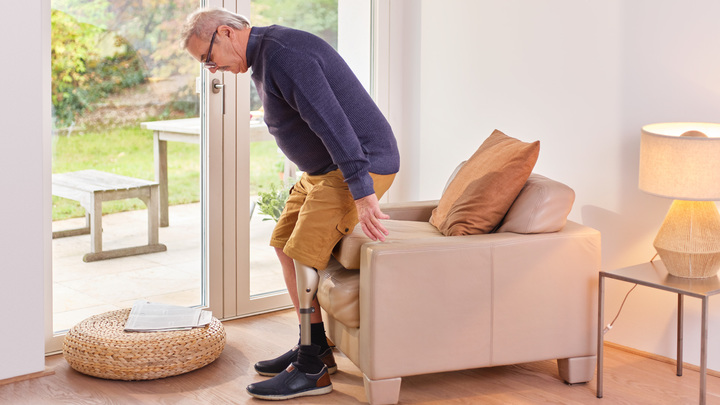 Support for sitting down and standing up
The Kenevo automatically detects when users start to sit or stand, mirroring their speed to keep them stable and in control during the transition. With no manual adjustments needed, their hands are free to use a chair or walking aid for support as desired.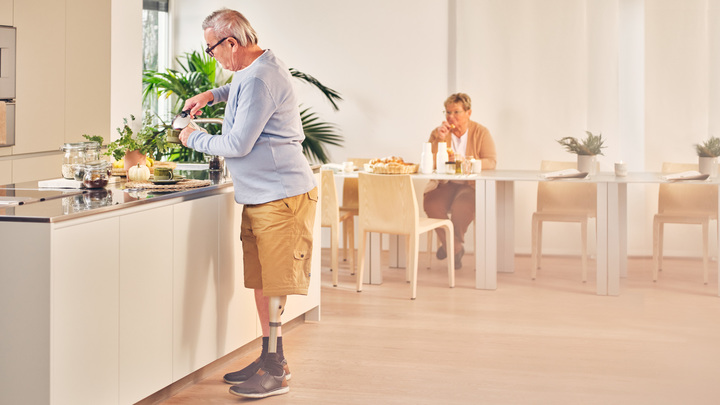 Works well with assistive devices
The Kenevo is fine-tuned to support those who may need a walker, cane, or other assistive devices, so it will support you every step of the way no matter how you get there! If you sometimes use a wheelchair, the Kenevo won't get in your way. The Kenevo's wheelchair function enables you to keep adequate clearance between the prosthesis and the ground so you can maneuver easily.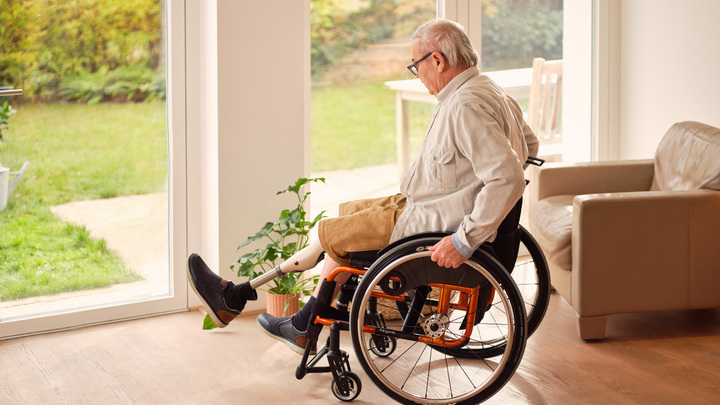 Cane, walker, and wheelchair support
The Kenevo is fine-tuned to support users with walkers, canes, or other assistive devices. Plus, with one hand movement, the wheelchair function locks the knee in a slightly outstretched position to keep the leg off the ground so users can maneuver safely.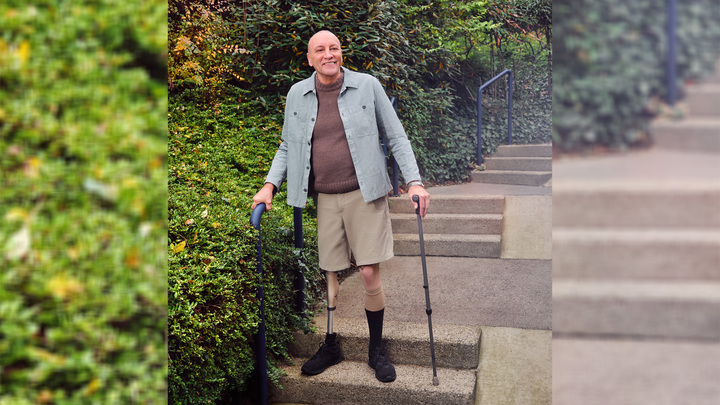 Walk securely and with confidence
The Kenevo was specifically designed so you can walk safely, especially on uneven terrain, down stairs and ramps, and backward. Stumble Recovery Plus is just one of the Kenevo's safety features, which gives you the time to recover if you were to stumble. The Kenevo makes users feel safe again, allowing them to become more mobile and independent.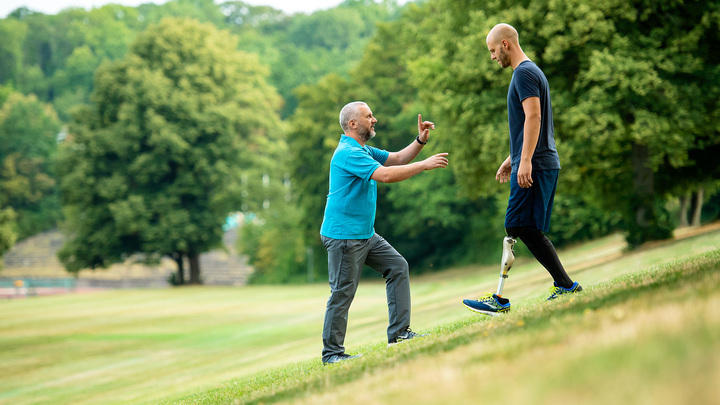 Asissted descent of ramps
A new function of the Kenevo provides intuitive support while walking down ramps. As you bend the knee, the resistance increases to support and control your descent. This improves stability and can support your mobility, both indoors and out.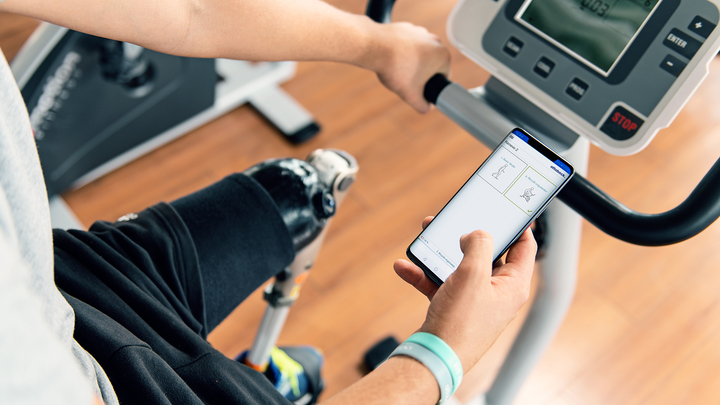 Exercise easily and safely
Exercise without compromising safety or comfort with the Kenevo's intuitive stationary indoor bicycle function. As soon as you sit down and start pedaling, the Kenevo automatically switches functions to support your movement. Once you are finished, simply get off the stationary indoor bike and the Kenevo will automatically go back to "normal" mode so you can walk safely.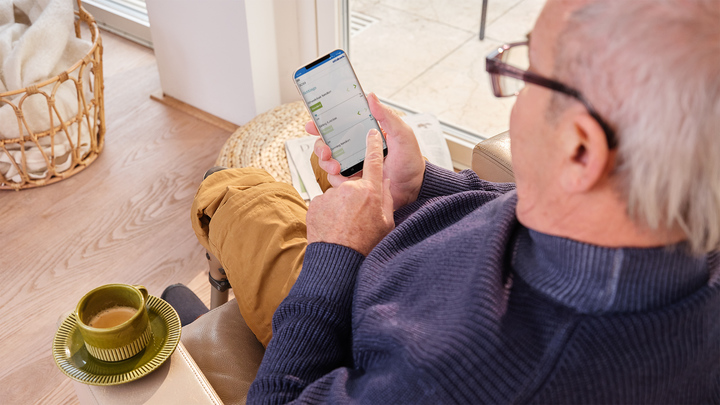 Sit and stand up with ease
Do you sometimes need to pause a moment as you are sitting down or standing up? If yes, don't worry! The Kenevo automatically detects when you start to sit down or stand up, and will support both movements so you do not fall into or back in the chair. Since no manual adjustments of the knee are necessary, this leaves your hands free so you can use an armrest or assistive device, if needed.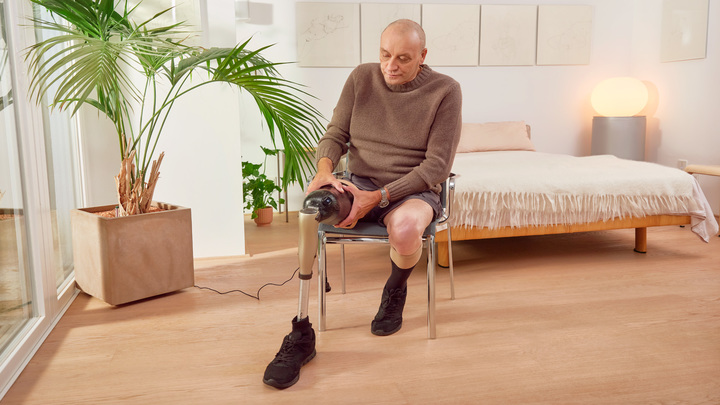 Putting on the Kenevo is easier than ever thanks to complete flexion of the knee joint. Plus, it can now be charged without removing the foam cover. Just a couple of ways Kenevo users get more time — and less stress — back in their day.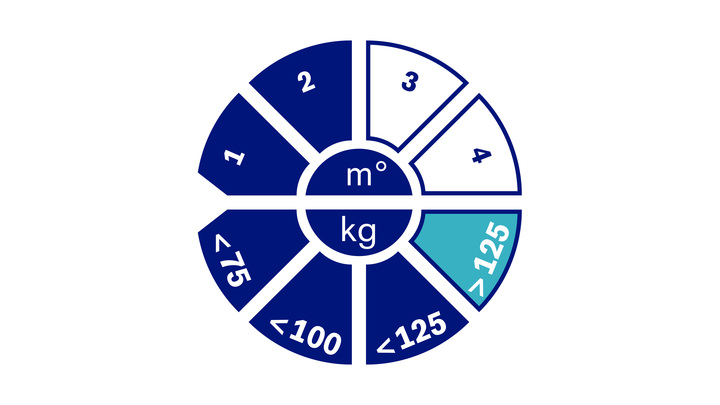 NEW: Now also for users up to 150 kg body weight
The Kenevo is now available for users with a body weight of up to 150 kg. This expands the application possibilities and enables even more users to benefit from the advantages of the mechatronic knee joint.
Kenevo users move forward with confidence
Robert feels confident with his Kenevo
Robert enjoys the simple but important things in his life. Being able to plan his day, make breakfast or enjoy the afternoon in the garden. His Kenevo gives him support with adjusting to new situations and mastering everyday challenges.
Günter loves his hobby
Günter has loved classic cars since his young age. After the amputation, he knew he didn't want to give it up. With his Kenevo, he feels stable and secure, which enables him to enjoy his everyday life and follow his passion for cars.
Detlef found his new normal
Detlef loves taking regular walks and watching his grandson play football. He was concerned that he might have trouble recovering after his amputation, but with the Kenevo microprocessor knee, he feels safe and secure with every step.
The Kenevo kept Michael moving
Michael used the Kenevo to make the most of his therapy and rehabilitation. It took some time for him to trust the knee joint, but he worked with his physiotherapist and learned to navigate stairs, uneven surfaces, and more before switching to a Genium X3.
Markus, rehabilitation physical therapist
Physical therapist Markus says, "The Kenevo is ideal for rehabilitation because I can let the knee joint grow with the patient. Thanks to its three activity modes, it supports the patient and their needs on a completely individual basis."
The Kenevo gives Christian's patients confidence
As a prosthetist, Christian trusts Kenevo to help his patients recover. "Safety is the most important thing for the patient directly after amputation. The patient has to be confident that they can rely on the prosthesis."
Bob built everyday confidence
Bob's greatest passion is his cars. The Kenevo provides Bob reliable safety with each step, helping him to independently organize his day.
3 activity modes to suit changing needs
Grows with every user
The Kenevo has three activity modes that allow it to adapt to individual needs and developing skills — for example during rehabilitation. O&P professionals can easily activate the appropriate mode based on each users' changing mobility. 
Mode A: Locked Mode
In mode A, the Ottobock knee joint is locked and does not initiate a swing phase. The Kenevo provides a high level of safety and does not allow unexpected movements.
The locked mode is especially appropriate if you have little control over your residual limb, primarily walk only short distances indoors, and spend most of your time sitting.
Mode B: Semi Locked Mode without stance phase flexion
In this mode B, the joint is locked during the entire stance phase. It unlocks when you start the swing movement of your leg for the swing phase. This is largely independent of your gait pattern and whether you are using other walking aids. The Kenevo always initiates the swing phase at the right time.
This activity mode is especially useful if you have a medium control of your residual limb, cover short distances, and walk slowly.
Mode B+: Semi Locked Mode with stance phase flexion
This activity mode corresponds to the mode B, but is supplemented by a stance phase flexion at heel strike of up to 10°. It sounds technical, but it means that you can walk on moderate slopes. As soon as your heel hits the ground, the knee bends slightly. This results in a movement that looks more natural.
This activity mode is suitable if you have already built enough confidence in your prosthesis in order to walk with stance phase flexion.
Mode C: Yielding Mode
More natural walking with the same high level of safety can be achieved in Yielding Mode. In comparison to the other activity modes, the stance phase in mode C is not locked, but has a high attenuation. This helps you walk on level ground, on slopes, and stairs. The swing phase can be initiated earlier, which facilitates more dynamic movements.
Activity mode C is suitable for you if you can control your residual limb moderately, are able to deal with various everyday situations, and cover short to medium walking distances outdoors.
Living with a leg amputation
Read about what to expect after a leg amputation, how to heal your residual limb, and finding the right rehabilitation facilities.
| | |
| --- | --- |
| Product type | Microprocessor |
| Mobility grade | 2 |
| Max. body weight | 330 lbs |
| Amputation level | Transfemoral amputation, Knee disarticulation, Hip disarticulation |
| User group | adults, elderly, women, men |
| Activities | Daily use, Rehab |
| Material | Carbon |
| | | |
| --- | --- | --- |
| Article number | 3C60=3 | 3C60=ST-3 |
| Mobility grade | 2 | 2 |
| Distal connection | Tube clamp | Tube clamp |
| Proximal connection | Pyramid | threaded connector |
| Knee flexion angle | 124 ° | 124 ° |
| Moisture protection | IP22 (protection against dripping water) | IP22 (protection against dripping water) |
| Weight (without tube adapter) | 915 lbs | 915 lbs |
| Max. body weight | 330 lbs | 330 lbs |
| Minimum distal system height with 2R17 AXON tube adapter | 274 ″ | 274 ″ |
| Max. distal system height with 2R17 AXON tube adapter | 490 ″ | 490 ″ |
| Min. distal build height with 2R17 AXON tube adapter | 256 ″ | 256 ″ |
| Max. distal build height with 2R17 AXON tube adapter | 472 ″ | 472 ″ |